Tools: Handheld Auditing Software



foAudits is a mobile auditing tool for energy audits, inspections and surveys. foAudits has versions for Android, QNX, iOS, and Linux devices, among others; as well as browser-based versions for netbooks, tablets, laptops and desktops.


You can create your own audits, or use one of the audits that are supplied with the package. Audit templates are first created or placed within a server database, which is optionally provided with the tool. You can enter and use your own customer list within this database. This allows you to have one person to set up audits for a number of inspectors in advance of each days' work.

Once completed in the field, the audits are then synced (copied) or otherwise moved back into the server database. From there you can use the supplied reporting features, or move the captured data to another one of your systems.

You may also wish to see our online, adhoc report-writer, foReports.

foAudits Features
Import your Customer & Code Lists.
The following entry field types are supported:


Date & Times
Categories and Codes (you can use your own codes!)
Voice Input
Sketch Notes
Labels
Barcode fields
QR Codes
String Data Entry
Buttons
Check boxes (Yes/No)
Radio boxes
Blank Lines
List Boxes
Dropdown Lists
Customer Signoffs
Photographs
(new) Ratings
You choose the number of stars, and what (e.g., 4 out of 5) to seed it to.
foAudits Requirements:
Android 4.1+
iOS 6+
QNX (Playbook)
UBPorts (Linux),
Palm OS 4.1+ (deprecated)
Windows 2012+/Win7 Pro or a Debian-based Linux distro

For details on pricing, click here.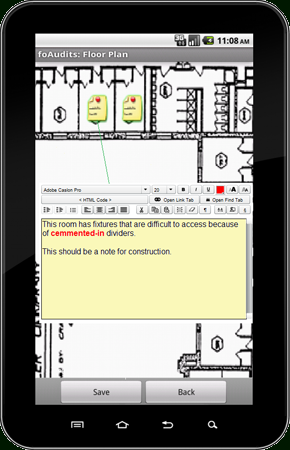 foAudits on a Galaxy Tab

Web-enabled Phone applications are the perfect solution for contractors, inspectors and auditors. Using only a phone eliminates carrying multiple devices and is a more natural way to work for many people.

For information about online web energy audits, click here.